2020 broke us.
2021 is following it up strong, so far.
And there's so much stuff everywhere, all the time, clamoring for our attention. Bad news headlines. Infuriating politics. Frightening developments. And then, at the same time, we all live in our own little tornadoes of uncertainty. Whose job or daily routine hasn't been shaken up — if not shaken to its foundations — by the events of the past year? Nothing feels certain. Nothing feels dependable.
Every day we're asked to give more, and every day after that, we're asked again, as if the previous day's ask never happened. There's always more: more to do, more to think about, more to be responsible for.
And it's easy — amidst all that "more" — to get overwhelmed. To see all that clutter and pressure and stuff and think I'll never get through it. To fall into that dread: that the tasks are too big, the obstacles too impassable. Dread turns to despair. Despair turns into inaction. And inaction makes everything that was merely bad before become catastrophic.
How do we get past these things?
Take one step. Just one. A tiny step forward, whether that's a step toward a goal or a step around an obstacle or just a step away from the dread and despair. And you don't let inaction overtake you, don't let despair define you. You take a step, even if it feels tiny and insignificant, because nothing else happens without that first step. One step follows the next. Once you've taken that step, you take another. And then another. And then you look behind you and you realize that you have made progress, you did accomplish something, even if the steps themselves felt like nothing.
There's this story I saw a few years ago about the world's largest beach cleanup. Mumbai had one of the dirtiest, most litter-stricken beaches in the world. Plastic and garbage and junk as far as the eye could see, and nothing to be done about it. Cleaning it up was unheard of: an impossible task. Until one person decided to get out there and start cleaning it up.
And when that person stepped up, so did others. And others. A little bit at a time. One person providing inspiration to another. The efforts cascaded. And within a year, the place had been transformed.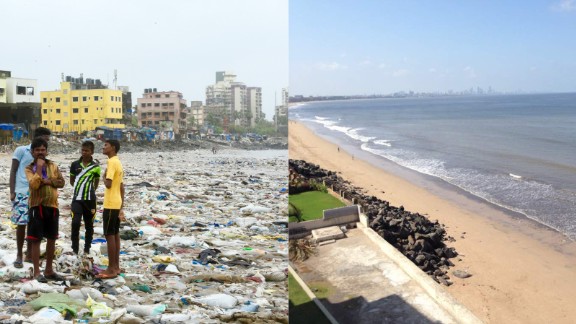 The journey of a thousand miles begins with a single step.
Step forward. Do something. Do anything.