Would you wear shoes with a drop of human blood in the sole?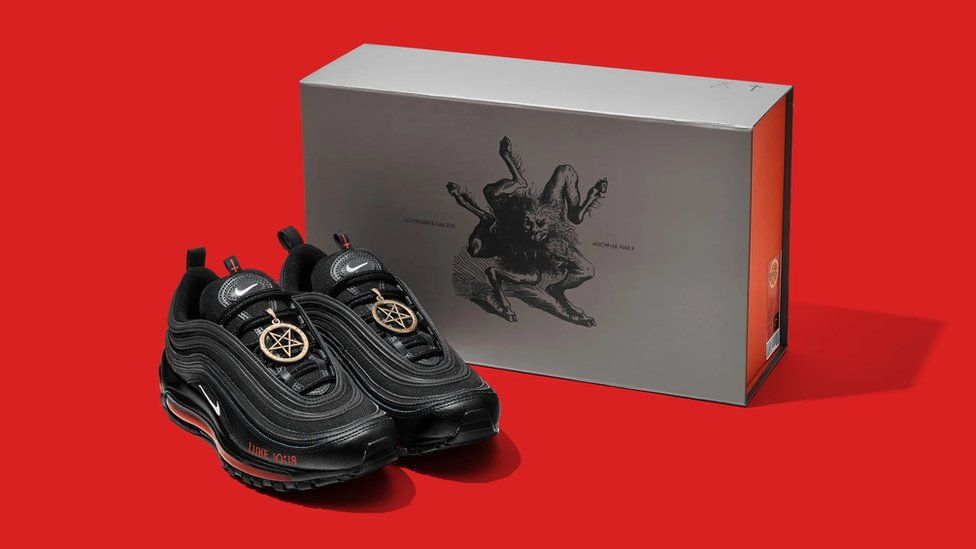 I mean, given the $1018 price tag, and the fact that they sold out in mere minutes, you almost certainly won't get the chance. (Unless it's your own blood. But that seems to miss the point a little bit. This is *somebody else's blood* sloshing around in the sole of your shoe. Mixed with paint, of course, but it's in there.
Note, also, the pentagram medallion on the laces. And the inverted cross on the tongue.
Nike is distancing themselves from the shoes, of course, saying they never manufactured them that way, and that's fine. Lord knows they don't need the religious masses picketing.
But that's the thing, right? It is so easy to rile up religious people, and Lil Nas X has done it purely as a troll. Just because he can. There's this big kerfuffle, now, over these shoes…. and if people could just chill out, recognize a troll for a troll and, you know, *not feed it*, the buzz about these shoes would disappear practically overnight.
But some people — and I'll even go so far as to say some *types* of people — can't leave it alone. This is symbology that *means something*, they cry, and out come the cries of blasphemy, etc etc.
There is nothing evil about these shoes, except for the backlash. These are man-made materials made by actual human beings to make a buck. There were no devils or demons involved. You can't even argue that the blood is serving some nefarious purpose. It wasn't harvested from unsuspecting children sleeping in their beds, or drawn unwillingly from a virgin sacrificed on an altar above a volcano. No, a bunch of shoe-designing nerds drew their own blood and mixed it with some paint and put it in the soles of the shoes to grab a headline.
The symbology is only as powerful as we allow it to be, folks. Yes, an inverted cross and a pentagram have connotations for those of us with religious backgrounds. But are we to believe that this kid — who comes from a few miles down the road from me, it turns out! — is really practicing Satanism here? Just look at what he's said in response:
Nope, he's trolling. And if you're upset about these shoes, well, you were his intended target.