In college, I had this roommate, Pete.
He was the nicest guy you could imagine; this gentle giant of a guy. Soft spoken, always smiling, the kind of guy who somehow always seemed ready to drop what he was doing to help you out with whatever minor inconvenience was on your mind at the minute.
Basically the polar opposite of me, which is an amusing enough happenstance, but not particularly relevant.
I don't remember much about Pete, because I have the memory of a coked-up goldfish on its fortieth trip round the little castle with the little cage-helmeted deep-sea diver ("OMG what is THAT??"). But I will never forget this story.
It's February. And it's bloody cold outside; cold for Georgia standards (I was living in Athens at the time, Go Dawgs) and probably even cold for non-Georgia standards… I want to say temperature in the teens? For Georgia, heckin' cold.
But Pete was from up North.
So when the winter weather came, he was prepared for it.
Anyway, it's bloody cold out, and we had, overnight, had that just-a-hint-of-precipitation-that-threatens-to-turn-into-snow-but-never-really-does-down-in-Georgia stuff that leaves a sturdy sheen of ice and frost over car windshields and made for some treacherous walks down the front walk. (Georgia does this stuff remarkably, by the way. It comes down liquid and then freezes, so you're left with this layer of crispy-crunchy-not-quite-snow over a compacted layer of ice. Nasty stuff to hit on the predawn roadways, and nasty to try to chip off your car.)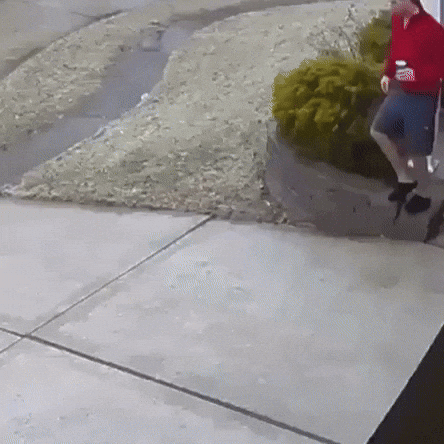 But like I said, Pete's from up North, so he's totally unfazed. He grabs his marshmallow-man coat and heavy gloves and tromps outside to free his car from its icy prison. And he starts chipping away, like Tim Robbins digging his way to freedom in Shawshank.
And as he goes, he sees, a few units down, a woman, bundled up, walking toward her car, just a few spaces away from him.
A woman carrying a steaming cup.
Now, seeing somebody carrying a steaming cup in the cold weather is no big deal, because coffee's a thing, right? But still, something resonates in Pete's lizard brain and he looks again. It's not a coffee cup she's carrying. It's an oversized plastic kitchen cup, a re-usable big-gulp. With no lid. Which can only mean one thing.
It's boiling water she's brought out to thaw her windshield out in a big damn hurry.
"Ma'am, don't!" Pete cries.
She looks at him. Says nothing. Cocks her head sideways that way dogs do.
"You don't wanna do that. Give me a second, I'll come scrape your windshield for you."
I can't speak to what this woman's life experience was. I can't tell you what made her so grumpy, so unresponsive to a good-faith offer of help, so contrary to not only decline Pete's offer, but to do so with gusto, with flair, with joy, the way she did. I can only report that she sneered, shouted at him, "Oh, PLEASE. I don't need your help," and tossed the steaming contents of her cup onto her windshield.
Which promptly spiderwebbed and sank into the front seat of her car.
Look, we get a lot of transplants in Georgia. It's entirely possible she was from Louisiana or Texas or sunnier states out west, and this was her first brush with snow and cold weather, and she had no idea what rapid thermal expansion can do to a windshield. But there she was, uninformed, presumably in a hurry, certainly not wanting to be inconvenienced by perfectly sensible and, under the circumstances, necessary measures to solve the problem at hand. And rather than accept the help that was offered to her — by somebody who knew what he was talking about, by somebody who was offering to give up some of his time and convenience to help her out, by somebody who just wanted to do right by her — she went ahead with her own thing and ruined her morning (to say nothing of costing herself several hundred dollars) in the process.
I think about that a lot, lately, in the face of current events.
Over 350,000 people have died in this country because so many of us think the way to solve ice on our windshield is to throw boiling water on it.