Okay, so the title only works when spoken aloud. The alliteration is lost in print.
Wife and I went to get vaccinated last week. I had some guilt about it, because we've actually had COVID already, and shouldn't that make us immune at least for a while, and wouldn't other people therefore need it more than us? But after being reassured that if you're eligible, the thing to do is to get vaccinated no matter what, we went ahead and signed up.
And at a Kroger pharmacy, no less.
I do not love Kroger, but I shop there nine times out of ten because they generally have the best prices of grocery stores in my area. Plus I know their layout and I'm a creature of habit, blah blah blah… but I have never used their pharmacy, because I have seen how the store as a whole works, which is not inspiring for me when I consider who I want processing our pharmaceutical needs. (They are not super-efficient, is what I'm saying.)
Nonetheless, they were the closest and quickest appointment, so off to the Kenny Rogers we went.
And …. there was a line. Like a long line. But we were instructed to fill out paperwork and wait. Our wait would ultimately only be about 20 minutes, and we'd be out of there in under 45, so not bad on the whole. But that's not what this story is about.
This story is about the COVID Kroger Karen, who enters the story just before we received our jabs.
We are sitting in the waiting area when she walks up, and delivers the line that I know is gonna lead to a good time: "Is there a manager I can speak to?"
And she says it, you know, louder than she needs to, because she's getting ready to put on a show, and she wants her audience.
Well, the manager is giving vaccinations right now, so she's going to have to wait, and to my surprise, she does. She begins doing what she'll do for the next fifteen minutes, which is linger near the pharmacy, talk too loudly on her phone about how she has to wait, and sigh in exasperation as she fires off text messages and, presumably, disgruntled Facebook posts.
We get jabbed. We come out. CKK is still waiting, to my surprise, not making a scene. Our vaccinator wants us to linger for about 15 minutes to make sure we don't have any adverse reaction. This is not a problem for me, because I want to see what CKK is gonna do, but nothing is happening, so I wander the aisles with my wife for a few.
By the time we're back, she's in full Karen meltdown. She's standing at the counter, jabbing her finger angrily at the plastic divider between herself and the manager (who just a few minutes ago was pumping vaccine into my arm). Raising her voice to ludicrous levels.
"I DON'T UNDERSTAND WHY YOU CAN'T JUST FILL IT."

The pharmacy is backlogged on all orders right now because we are prioritizing the COVID vaccination effort.

"I JUST CAME FROM MY DOCTOR AND HE ASSURED ME IT WOULD BE READY."

There is always a delay, and if you had called ahead, we could have told you there would be more of a delay.

"THIS IS JUST RIDICULOUS."

Apologies.

"WELL HOW LONG IS IT GONNA TAKE."

All orders are delayed by at least 24 hours right now because of the COVID vaccination effort, as I told you before.
And on and on, and around and around. There's more. Lots more. The same basket of phrases gets passed back and forth between them like cards in a game of Go Fish.
In defense of CKK, I'd feel some kind of way if I were in her situation, too. Coming out to pick up a prescription only to find it's not ready is one of the more frustrating things on the 1st-World-Problems Bingo Card, so on the one hand, I get it.
On the other hand? *Waves hands vaguely around* We are in a pandemic, after all, and y'know, if the vaccination effort is taking precedence over your monthly refill? I think we have to have some understanding, here.
But not CKK. Having made no headway with the manager (as she was never going to), she throws her hands up in exasperation. Whirls around, not to leave, but to continue her performance. I have been studiously staring at my phone while this has been going on, pretending to text so I can giggle under my breath as she loses her mind. She doesn't catch me laughing, but I do make the mistake of glancing up —
And we lock eyes.
Oh, no.
I immediately avert right back to my phone, but it's too late. She saw me. She walks toward me. Performatively announces, "I have never been treated like this. I just can't believe it."
I am studiously staring at a text message from my wife from over a week ago. This is a very important message, I hope my posture communicates. I haven't been paying attention to you at all. In fact, I didn't even hear you. In furtherance of fact, I don't hear you now. All I know and all I see is this message from my wife. From over a week ago.
It's not working. She comes right up to me. "Can you believe this? I can't believe they're doing this to me."
She's loud. She's angry. She wants sympathy, and she has come to the driest of wells for a drink. I have no sympathy for this woman. She represents everything I hate in entitled, angry Older White People.
But because I'm a polite southern boy, I *almost* give it to her. I *almost* make the barest of head shakes, the tiniest of shoulder shrugs, I *almost* mutter knowingly, "whattayagonnado?" But I can't make myself do it. I can't offer her any comfort when she's carrying on this way. I'm a parent. We do not negotiate with terrorists.
I steadfastly ignore her, hoping she'll walk away, but she won't. I instead offer her my favorite mantra when somebody is complaining: "Life is pain."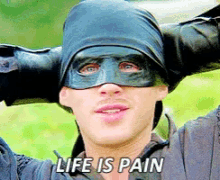 I say it without looking up. Without smiling. I don't mean it as a joke, or to mock her. It's all I have for her in this moment.
She steps back. Squints at me. "What?"
Maybe she didn't hear. Maybe she doesn't understand. Maybe I'm just a colossal a-hole, more of an a-hole than she is in this moment. I don't know. But it's all I have for her. I offer it again, this time looking her in the eye and shrugging. "Life is pain."
She scowls at me but doesn't say anything. She stalks off to go be angry somewhere else, anywhere else, away from this absolutely unhelpful bald dude in his Star Wars hoodie quoting Princess Bride philosophy at her which she probably doesn't even get, the rube.
It's quiet. People go about their business.
I have discovered the cure for Karens, and the cure is ruthless existential candor.