I'm out at the beach with my kid.
Tybee Island has some of the most gently sloping beaches you'll ever see; the difference between high tide and low tide feels like about forty yards, and depending on the time of day and where you choose to explore, you can wade way out and still find yourself only in water up to your waist.
So we're way out. A good thirty or forty yards from shore, which is about as far as I care to go. (Thalassophobia. I don't have it, but I get it.) And we're bobbing around on these tubes, my son delighting in swooping up and down with the gentle waves, me trying to relax (at least as much as an appropriately paranoid parent can relax when his six-year-old is floating on the ocean, which is to say, only so much). One of the sprout's favorite things to do is to pretend to fall out of his tube — he screams, dramatically, "oh no!" and tips it over sideways, pitching himself into the drink, then swims up under it and hoists himself back in so he can do it again. He's doing this over and over, and I'm only kind of paying attention. My mind is wandering the way it only can when you're floating, feeling weightless in the grip of the great salty blue. (Okay, the waters at Tybee are pretty murky — but you know what I mean.)
Next thing I know: "daddy, get my float."
I turn and look. The float is a good twenty yards out. I paddle lamely after it for a moment, doing a sort of backwards butterfly with just my hands while floating in my own ring. That ain't working; every foot I gain, the waves push me back. So I flop out of the ring and make to wade over there and get it — except my feet don't touch bottom. I go under and catch a nose full of salt water, and come up spluttering.
Well, that doesn't seem right. I whip around to glance at the shore, see how far out we are, and oh boy oh boy have we drifted. We're about twice as far out as I thought we were, and the people on the shore look disturbingly tiny.
I start paddling after my kid's float, but with a head full of seawater and my not-so-great swimming skills, it ain't going so hot. Plus, I've seen Jaws, and I know that a human flailing around in coastal waters triggers an ocean predator's prey drive like a fat, oblivious seal — so something like panic is flooding my system too. (Even though I know that's ridiculous.) In my head, I see images of that riptide warning poster that they post everywhere at the beach: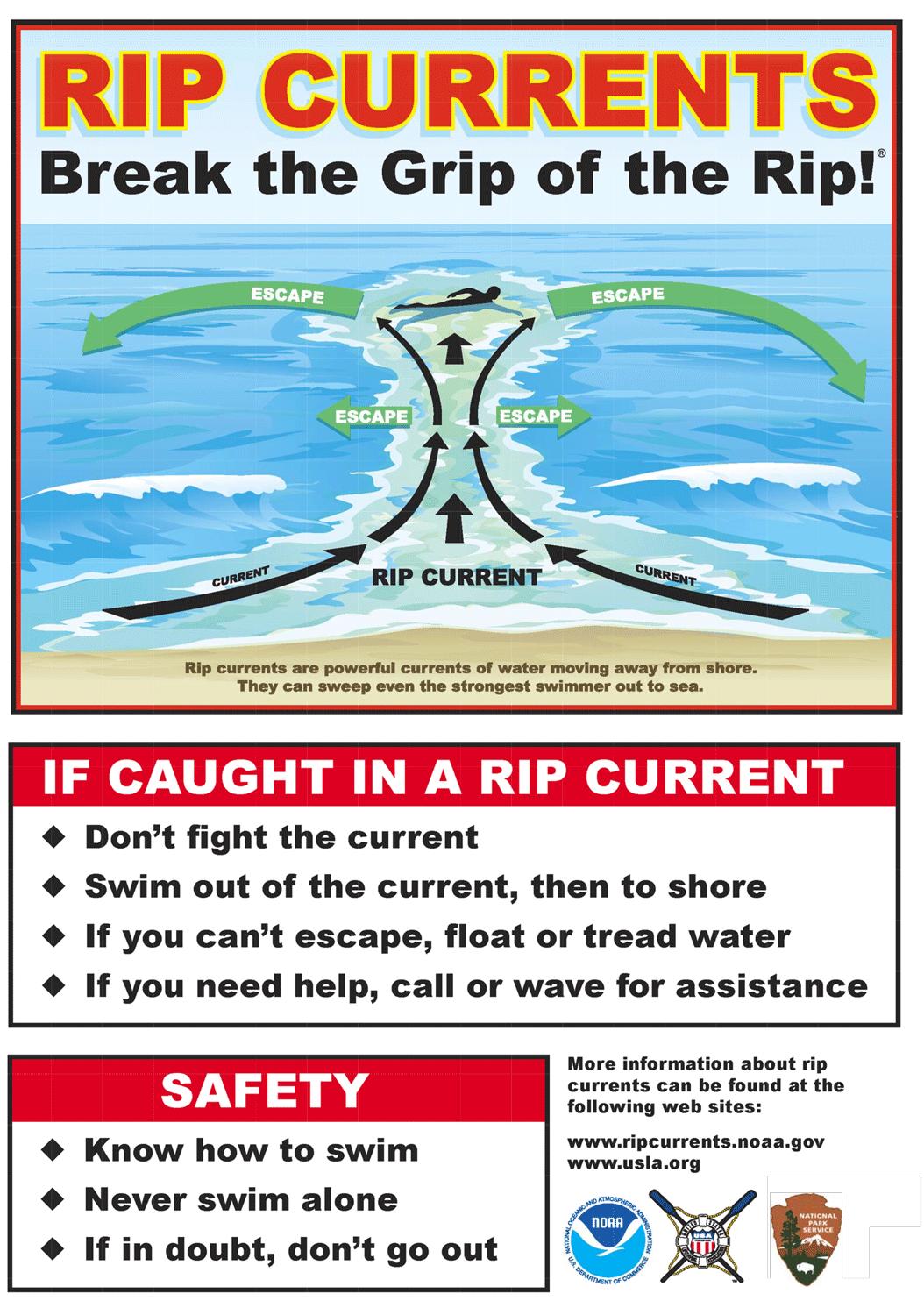 And I think I might actually be caught in one of these things. (I'm not, as it turns out, but just try telling that to a brain that thinks it's simultaneously drowning and being stalked by sharks.)
I turn to look toward shore once more and I see that my kid is paddling out after me. Something about that short-circuits whatever thinking I'm doing at this point. My lizard brain kicks the rational part of me out of the driver's seat. Now it feels like a fight for survival. It suddenly feels like there's miles of open water yawning beneath my feebly kicking feet, like the ocean itself is a living thing pulling me and my kid out.
I shout at him to go back to the shore, but he's six — he's a worse swimmer than I am, and though he's doggie-paddling dutifully toward shore, he's drifting even closer to me. I throw a glance over my shoulder at the float — it's even farther away now, which seems impossible. My thinking brain sends up one last smoke signal that bubbles through my lizard-brain haze: It's a five-dollar float, you idiot, help your kid!
With that, I hook two fingers into my kid's swimming vest and paddle back toward the shore in earnest. We make it back without a fuss. My wife's looking at me a bit oddly — to be fair, I'm a bit more spluttering and wide-eyed than usual. I turn around and look for the float; it's basically a speck, floating a quarter-mile out from the shore. To make matters worse, it pretty much stays there for the next hour or so.
And I just have to watch it. And feel shame.
So.
Since it's Metaphor Monday (when was the last one of those??), this is the part where I say this thing is like writing, and man, it's easy to do. Sub in my project (or, in fact, yours, faithful reader) for the float, and you're done.
I allowed myself to be distracted and took my eye off the float for a moment; next thing I know, the circumstances (my kid flipping the raft, the current, maybe even the wind, who knows?) had the thing out of reach and quickly drifting farther away. This is my writing project: you take a little break from it, and the tiniest things can push it away — out of convenient reach, where it doesn't feel like you can get around to it, or out of mind entirely, where you don't even think about it for a little while.
Next moment: I'm paddling after it but I'm in over my head, and I'm panicking as a result. I look up, in other words, and see that the project has gotten away from me, so I panic and make it a lot more important than it is. (If I don't write a little bit today, I may never get it back.) Not to mention, I'm not the strongest swimmer (writer!) so even paddling after it feels like not making any progress at all — I sit down to write and feel like I just can't do it, or I try to brainstorm on the project but my mind immediately wanders. Bang, it feels like I'm in a fight for my life — or, at the very least, the life of my project.
Next moment: I realize my kid is out here with me and decide to let the float go. In other words, I grasp that my family is still here on vacation with me and not going anywhere, and the choice of where to spend my time seems suddenly very obvious. I grab the kid and swim for shore — I give up on the project (again) and let it float away, as frustrating and painful as that may be.
Finally: I have to sit there and watch the float bobbing on the waves a quarter mile out from shore, unable to do anything about it. Well, that one's obvious, too — no matter how much distance I get from the project, it's never really gone — it just hangs there in the back of my mind (or, as t'were, floating on the horizon of my subconscious) waiting for me to swim out and get it. Perhaps taunting me. Because now, the work required to get it back is, admittedly, huge.
Interestingly, that's where the metaphor breaks down — because while the float is well and truly gone no matter how frustrated I get or how silly I feel (or how much I lament the fact that it will probably end up choking some poor unsuspecting sea animal — and that does hurt my heart, unless it's a shark, because seriously, I'VE SEEN JAWS), the project is not in any way gone. In fact, I sat down just this morning to put some words on the page and, while I'm nowhere near on the timeline I wanted to be, the project feels very much in reach again.
Writing, in other words, is just like riding a bike. Doesn't matter how much time you take off, it's right there waiting for you when you decide to go back to it.
Wait, that's a different metaphor entirely. Damn.