Because there is still good in this world, The Rise of Skywalker is available to stream today. So of course I'm watching it.
And I tweeted about it. And my usually very humble Twitter account suddenly got a ton of likes and retweets, and a handful of comments.
Now I'm a Twitter baby, and I don't care about it a whole heck of a lot, so the likes and retweets are cool, but the comments baffle me. Because most of the comments are negative.
I mean, I get it. Twitter sucks, it's home to trolls and grumps and nothing is better than disagreeing with somebody on the internet and Twitter is bloody fanTAStic for that. But why? I make a post about something I love and grumps want to roll into the comments and say any number of variations on "YOU SHOULDN'T LIKE THAT THING."
Like … okay? I mean, consider. You're in a grocery store. (Actually, given the state of grocery stores the last couple days, the grocery store might not be the best setting to consider, but heck it, let's move ahead.) You hear a person saying to another person, possibly while standing near the bananas, "man, I really love a good banana." And you pounce upon them: "I HATE BANANAS AND I ALWAYS HAVE SINCE I WAS A CHILD BECAUSE MY MOTHER FORCED ME TO EAT THEM AND I HATE MY MOTHER AND YOUR MOTHER TOO."
Well, we all have opinions, don't we? But yours isn't going to change the other person's, in this case, and all it really accomplishes is making them wonder who hurt you and why you are the way you are.
Anyway, I just started responding to the negative comments with the following gif: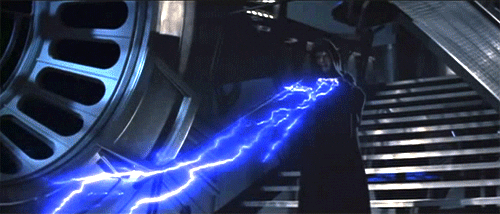 Which might, in fact, be my response to everything negative I encounter on Twitter going forward.
But I don't want to gripe about Twitter (man, the world has enough of that). I want to rave about Star Wars. (Because … the world doesn't have enough of that? Eh.) Because the new trilogy gets a lot of hate. And I think that's hot garbage. I'm pretty convinced that most of the guff these movies get comes from prejudice on behalf of the guffer; it comes from hangups and holdouts that people have against these movies. Star Wars Owes You Nothing, as I've mentioned before.
And I get it. It's impossible to consider the new trilogy independent of the originals. The new trilogy is not the original trilogy. Not for nothing, filmmakers have learned a lot about filmmaking since 1985 when Jedi came out. They know how to push our buttons better, they know how to pull us in. And the new trilogy is absolutely lousy with brilliant moments that push our buttons, both from a storytelling point of view and, of course, from a cinematic one.
So because you needed it today, here's a non-exhaustive list of awesome moments from the new trilogy, moments that made me go "WHOA" or "HOLY CRAP" or "NO WAY".
Kylo Ren freezes that blaster bolt in midair
Rey scavenging the husk of a star destroyer
"The garbage will do"
Rey mind-tricks the stormtrooper into dropping his weapon
"That's not how the Force works!"
Kylo Ren murders Han
The entirety of the lightsaber battle in the snow but especially

Finn picking up the saber and
Kylo Ren force-pulling the saber to him but it goes flying past him and into Rey's hand (I get chills every time!)

Luke tosses the saber over the cliff
"You went straight to the dark"
Kylo Ren murders Snoke
And the entire ensuing battle in the red room
Holdo's kamikaze lightspeed maneuver
Kylo and Luke's duel (Luke doesn't leave footprints!)
Rey surrounded by the floating boulders as the rebels escape
The Emperor's cackle
Rey accidentally blows up a ship with force lightning
Dark Rey
The duel over the ocean
Rey kills — and then saves! — Kylo Ren
Ghost Luke stops Rey throwing the saber away
Thousands of ragtag ships drop out of hyperspace to fight on Exegol
Kylo Ren pulls Rey's saber from behind his back
Palpatine zaps every single ship out of the sky
Rey hears the voices of the Jedi
And I mean, there's dozens of smaller, less significant and less awe-inspiring bumps along the way. These movies are awesome and they fill me with joy.
Is the new trilogy perfect? Heck, no. There are plot holes and dumb diversions aplenty, things that don't make sense, things introduced and then forgotten or never explained. But — and here's where I shock you — those things are in the original trilogy, too.
Episode IV is just, I mean, horrifically paced. It's so slow. You're a good hour into it before anything really starts happening. Empire has so many tangential diversions from the main plot it's ridiculous. (Wampas! Space Eel on an Asteroid!) Jedi? All I have to say is Ewoks. Let's not pretend these are perfect movies.
So when somebody tells me that any new Star Wars movie can never measure up to the originals … meh, that's maybe not a bad thing.
Anyway, enough about Star Wars. (As if such a thing were possible.) I'm locked down and I have movies to watch.