I picked up Mark Manson's latest offering, Everything is F*cked, at my local library on the New Releases rack. Readers of the blarg will know that I love profanity, especially when it pops up in places it doesn't belong (like a book title!). So I was intrigued. Of course, I also quickly realized that this is the same Mark Manson who wrote The Subtle Art of Not Giving a F*ck, a book whose title also pleased me mightily but which I never bothered reading because I figured — I've kinda got that covered. I'm notorious — and it drives my wife nuts — for not caring about what other people think, for giving the metaphorical finger to social niceties, for just putting my head down and minding my own business. But after reading Everything is F*cked, I'm rethinking my decision not to read The Subtle Art, if for no other reason than that I want to hear more of what Mark Manson has to say, on virtually any topic.
Anyway, I got the book and immediately began my campaign of defacement of public property, i.e. dog-earing the hell out of this book. Almost every page featured a passage or two that made me sit bolt-upright, the gremlin in my brain shouting "YES" at the top of its lungs, so this book took a beating. A loving, well-meaning beating (Dog-earing books shows them you care!), but a beating nonetheless.
Because I loved this book. I loved it so much that I had to read it slowly, digesting its insights and offerings over time, like the Sarlacc devouring its victims over thousands of years.
The thrust of the book is that Life is Pain, and the better we can understand and embrace that fact, the better off we will be.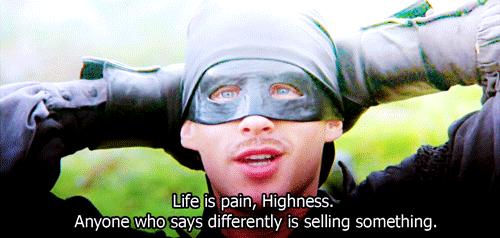 While this isn't particularly surprising news for an atheist at least passingly acquainted with cosmology and the physics of the universe, it does rather put things into perspective.
Rather than try to review the entire book, I'm just going to provide some quotes from its pages, for your own edification and mine.
The Feeling Brain drives our Consciousness Car because, ultimately, we are moved to action only by emotion. That's because action is emotion. (33)
Much of the first part of the book is given over to the dichotomy of Thinking Brain / Feeling Brain, and how we think that we live our lives with the Thinking Brain behind the wheel, but we really don't — the Feeling Brain is always driving. Anyway — this quote in particular is relevant to me because this is a concept I've attempted to communicate to my Acting students, if never in such succinct language. So I'm gonna be assimilating this quote for future use.
… silencing the Thinking Brain will feel extremely good for a short period. And people are always mistaking what feels good for what is good. (37)
I don't have a whole lot to add here, except to say that this phenomenon is probably responsible for a lot of the tribal behavior we see these days. You know. Politically. And so on. Ahem.
The pain may get better, it may change shape, it may be less catastrophic each time. But it will always be there. It's part of us.

It is us. (106)
If the first half of the book is an examination of how our brain deceives us, the second half of the book is an exploration of the thing that drives us — which is pain, and more to the point, an avoidance of pain. We've sort of become slaves to the idea that we're supposed to be happy all the time, that pain is this thing that crops up from time to time, but with the right outlooks and attitudes, we can avoid it or fend it off completely. Nonsense. We are defined and created by our pain, in the same way that the application of fire and heavy blows from a steel hammer create a sword.
Children are the kings and queens of antifragility, the masters of pain. It is we who are afraid. (230)
Antifragility is this concept Manson deals with a bunch in the final quarter of the book: in a nutshell, stress makes an antifragile thing (person, structure, idea) stronger. And because most of us try to hide from pain, our bodies and minds lose this quality. But kids, who haven't yet been beaten down by the world, don't know enough to hide from pain, so they run towards it — and this has the paradoxical effect of making them stronger.
The book is a fascinating read, and for a guy who has been sort of wracked by anxiety over the past year or so, it was an empowering and enlightening read.
It also gave me the best summation of my feelings as a writer that I have ever read: