Here's a book with a concept you've heard before: *a video game that's realer than real life.* Do Jason Segel and Kirsten Miller freshen it up or drag its corpse behind the jalopy for a few cheap miles? Let's find out!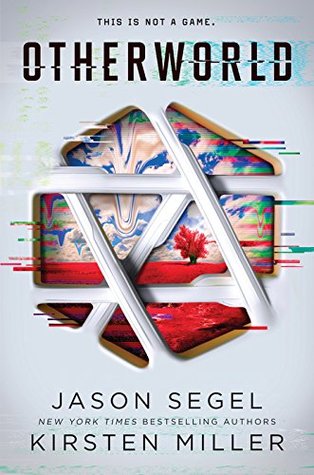 Summary:
We've got this immersive VR world created by a shadowy company literally called "The Company" (which is an attempt at a joke every bit as disappointing as it seems) and piloted by this Elon Musk-ish figure. Owing to recent advances in technology, the game — which was failing monetarily — is rebranded and re-opened as a virtual reality world-substitute — an "other world," GET IT? — for people suffering from disabilities who are otherwise unable to function in the real world. Of course, to open such a venture on the large stage requires lots of beta testing, and since living, breathing human test subjects are difficult to come by and legally problematic (the technology might-or-might-not kill people in the real world when their avatars die in the game world), The Company opts to make its own human subjects by staging accidents that send hapless victims into comas, and then administering chemical cocktails to keep them locked-in.
(If that sounds a bit mustache-twirling and far-fetched, well, just buckle in.)
The novel centers on Simon, a protagonist you're going to hate, but not, I think, in that love-to-hate-them way. (More on that in a moment.) He's enchanted with the idea of the Otherworld game but becomes obsessed with it when his kind-of-but-not-really girlfriend, Kat, becomes one of The Company's victims and finds herself trapped in the game. His quest to save her and blow the lid off The Company's secrets leads him through the immense and twisted Otherworld.
Critique (not exactly constructive):
I'll keep my spoilers vague, since this book is fairly new, but much like my other recent read (Stephen and Owen King's Sleeping Beauties), the overwhelming feeling I'm left with is: meh. Otherworld is a softer take on The Matrix, a harder take on Tron, and it wants to be a gamer-geek's take on The Hunger Games. The setup is fine, the premise is good; it just never seems to deliver in any satisfying way.
The biggest problem: the characters are a let down. The protagonist, Simon, is a jerk of the highest order. Not a jerk that you love to hate, a la House or Frank Underwood or Loki, but a jerk who you really wish would just go away. He's rude to absolutely everybody he encounters in the real world with the exception of Kat, the girl who makes the mistake of giving him some attention (naturally, he's completely in love with her). And there's no good explanation for this ball of hate rolling around in his guts; he's the child of fabulously wealthy parents whose only complaint is that his parents don't pay attention to him. So he goes out sunbathing on his lawn in the nude to make his neighbors angry, knowing they'll call his mother at work (…really?) to kick up a fuss. The authors want him to be an anti-hero, but he's really just an a-hole.
His love interest, Kat, seems at first like this tough, troubled girl — you know, that elusive Strong Female Character type — but after the first third of the book, she's relegated to the damsel in distress. Simon chases her into Otherworld, but there she's just a mirage; always just out of reach, just out of sight. Further, upon reflection, I'm not sure we see a genuine interaction between her and another character in the book. She hangs around with some people Simon hates (yeah, I know, that narrows it down exactly zero) and seems like she might be dating some deadbeat (when she could have Simon, the … not deadbeat?), but don't worry — she's playing a long con, and they spend the final fifth of the book kissing every chance they get. Often when it's totally inappropriate. (It's gross.)
Their love story, by the way, is as ludicrous as you could hope. Never mind the ridiculous flippance and disdain Simon flings at everybody else he meets or the fact that Simon tells us, again and again, that he'd destroy all of Otherworld and everybody (real people, too!) living in it for her. They're literally driven apart by an evil stepfather. I just … yeah. I'm moving on.
The continuity is suspect. Simon and his crew flit from one locale to another with no explanation of how they did it or how long it took. Sure, they're in a video game so the rules could be bent, but there's also very much the sense of — much like your average video game — okay, here's the ice level, here's the desert level, here's the jungle level. At one point, Simon gets whipped away from his companions and beamed, Star Trek-style, to the other side of the world to die. But before long, one of his companions finds him. How? Don't ask, she just does; and just in time to save him from certain death, besides. How fortuitous!
And of course, there's the issue that most of the book takes place in the game world. Well, what about your body in the real world? To its credit, the book deals with this issue on the one hand — every time our hero wakes up in the real world, he finds he's soiled himself and he's starving. (Somebody in the real world even gives him diapers to help himself with this problem, which is actually pretty funny. But because he's a class-A jerk, he doesn't bother using them so that he can deliberately run around smelling of urine and feces.) But at the same time, he is somehow able to dip in and out of the game for days at a time, and his physical body is never found, never disturbed. This beggars belief.
Then, there's the ending. Without spoiling it, the ending is a non-ending; a straight cliffhanger leading into the next book (as yet unreleased). Not a resolution to the conflicts opened by this book, but a continuation of them. Wholly unsatisfying.
Finally, I don't know who the book is really aimed at. The premise and execution have a decidedly YA flair to them — Simon is of high school age, after all, going on a grand (virtual) adventure so save the (virtual) world. But the tone of the book is not at all YA. The main character's thoughts and speech are littered with profanity, and it's regularly intimated (and here and there outright stated) that Otherworld is a haven for orgies and all manner of devilish perversions. Not that I have a problem with that stuff, but I'm not sure a YA novel is the right place for it.
Verdict:
So — is the book any good? Well, despite my laundry list of complaints, I didn't hate it. To be fair, I don't think I liked it all that much, though it did tickle my geek-bone well enough to keep me turning the pages. And this concept alone is entertaining enough to me that I'm willing to dip my toes in just about any waters that explore the idea. The novel does try to explore some themes about the dark side of human nature. But it's a bit like tossing frogs into boiling water rather than trying to cook them properly. There's no wading in, there's no gradual transition; we just find ourselves in the midst of cannibals and gladiators. The end result is less "oh, wow, that's deep" and more "what the hell am I reading?"
Still, I can't help feeling like *Otherworld* is trying to ride on the coattails of some other recent successes *cough Ready Player One cough* rather than trying to forge its own way. It's a decent enough bit of escapist literature (and goodness knows we need that these days), but that's about all it is.
The verdict: Two out of five smelly, peed-in pants legs.