When Orpheus went to retrieve his beloved Eurydice from the depths of Hades, the resident god allowed it with one caveat: he could lead her back to the world above, but he couldn't look back, or she would be lost forever.
Which is a little bit the way I feel here on the last day of 2017. Like things are just on the brink of being okay again, but — when I inevitably turn to look back — it's all gonna turn to sharknado.
I know I'm not alone in this. 2017 has been a bumpy ride for us creative types: it's hard to focus on the art when you fear for the world as you know it. Production is down, frustration is up. If I had to put an estimate on it, I'd say the average word has gotten 77% harder to write this year, and good sentences are 183% harder to come by. The brain just isn't connecting right — there's too much fog, too much distraction.
Add to the strife and struggle that most artists were feeling in general this year the added stress of our summer-long move (seriously, we started the process in March and didn't finish until July — just in time to go back to work), and the end result has been a donkey kick to the balls of my creativity. Progress on the edits of my novels stagnated, to the point that one of them stalled out completely and I've had to abandon it like an iceberg-struck cruise ship. My daily word counts have bottomed out like a Formula One racer pulling into a Wendy's. Even my posts around here have tapered off like the back end of a dolphin. And if you notice that there's little rhyme or reason to those similes, well, see the previous paragraph.
And like the finely-tuned but ramshackle Rube Goldberg machine that, when one element misfires the entire contraption goes sailing off the rails, as goes the writing, so goes the rest of the ship. My exercise routine and the motivation to keep it up has cratered. Work — my actual money-making job — has felt harder despite, by outward appearances, becoming easier. Feels like my parenting skills are in the ditch because they kids are always fighting and screaming and stretching us to the limit. Needless to say, I've packed on a few pounds, so add that into the equation for some good, old-fashioned self-loathing.
I am more than ready, in other words, to see the back end of 2017. But doing that properly entails taking a look backwards, like Orpheus, so that I can fully appreciate the sharknadostorm.
So.
Current novel project status:
Accidentally Inspired: still querying. I'm behind on sending out letters (go figure), but I'm still happy with the book.
Untitled time-travel project: trunked. I spent many months making not a lot of progress in the edits and it just wasn't working. Maybe I'll come back to it one day, but there's only so much good time I'm willing to throw down a hole.
Untitled superhero project: rebuilding. I'm in the midst of rewriting a chunk of the middle of the book, after which I'll move into proper edits. Many good feelings here, even if the progress has been slower than I'd like.
If I had to put a total word count on what I've written novel-wise this year, I'd put that number around 40,000. Not great by any stretch. But I'll temper that by noting that I wasn't drafting much if at all this year; all my work has been in edits. Which is a bummer, because there's nothing like the thrill of raw creation that comes with drafting, but there it is.
State of the blarg:
Posts are down, which means readership is down. Interestingly, I have more unique visitors than in years past, but less views per visitor, which is both good and bad. Good: more people seeing my stuff. Bad: not as many clickarounds to read what else is on offer. I could make some excuses for this, but I think it comes down to tone. I've done a lot of grousing about how hard things have been this year, and people can only take so much of that. Hell, I can only take so much of that. I also suspect that the more time I spend splashing around in my mudhole of despair, the more despair I get on me, which demotivates my writing, and *begin 2017 death-spiral all over again*.
I look into my stats and I see that some of my most popular posts were my Terrible Reviews, which is a category I've neglected this year, and also a thing I quite enjoy writing, so getting back to more of those wouldn't go amiss.
I also think, in a psychological mind-gaming myself into less effery kind of way, that my standards are hurting me. For a while, I prided myself on getting my average post length up over 1000 words. Which is great when it happens, but also — who has the patience to sit there and read 1000 words of drivel on a blog? I'm guessing not a ton of people, to say nothing of the time it takes to churn out 1000 words — especially when I could better use those words on my novels. The blarg still serves, I think, as a release valve for creative energy and is a solid way to Just Keep Writing, but it's felt like a job somewhat. That doesn't strike me as a formula for fun.
And this sharknado is supposed to be fun, for fargo's sake.
John Goodman's exterminator in the aptly-named Arachnophobia was a teetotaling sort. He brought a flamethrower to deal with a subterranean basement infestation, which, y'know, plus ten for total domination, but minus a thousand for good thinking. Still, when asked what to do about the problem of wood rot in a basement early in the film, he offered this gem: "Cut out bad wood. Put in good wood."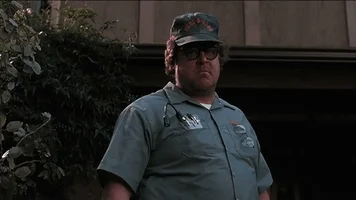 Easier said than done, probably. And the spiders totally got him in the end. But marvelous in its simplicity, and some advice I'm gonna try to live by.
In fact, I'm gonna take that quote, change one letter (okay, FINE, one letter TWICE) and make that my mantra for 2018. (Not a resolution, because resolutions are bullsharknado, but a mantra.)
"Cut out bad word. Put in good word."
Maybe not poetic, but a good thing to aim for.
See you in 2018.