The prompt for this week's SOCS post is "moot," a funny-sounding word which is one of those weirdly connotated things that no longer means what it actually means. Like literally. (Though internet outrage has kind of fixed the rampant misuse of "literally".)
About the only way you see "moot" anymore is in the phrase "moot point," a phrase that comes out of mock trials which essentially means meaningless or without consequence. But I can't hear the word "moot" without thinking about this: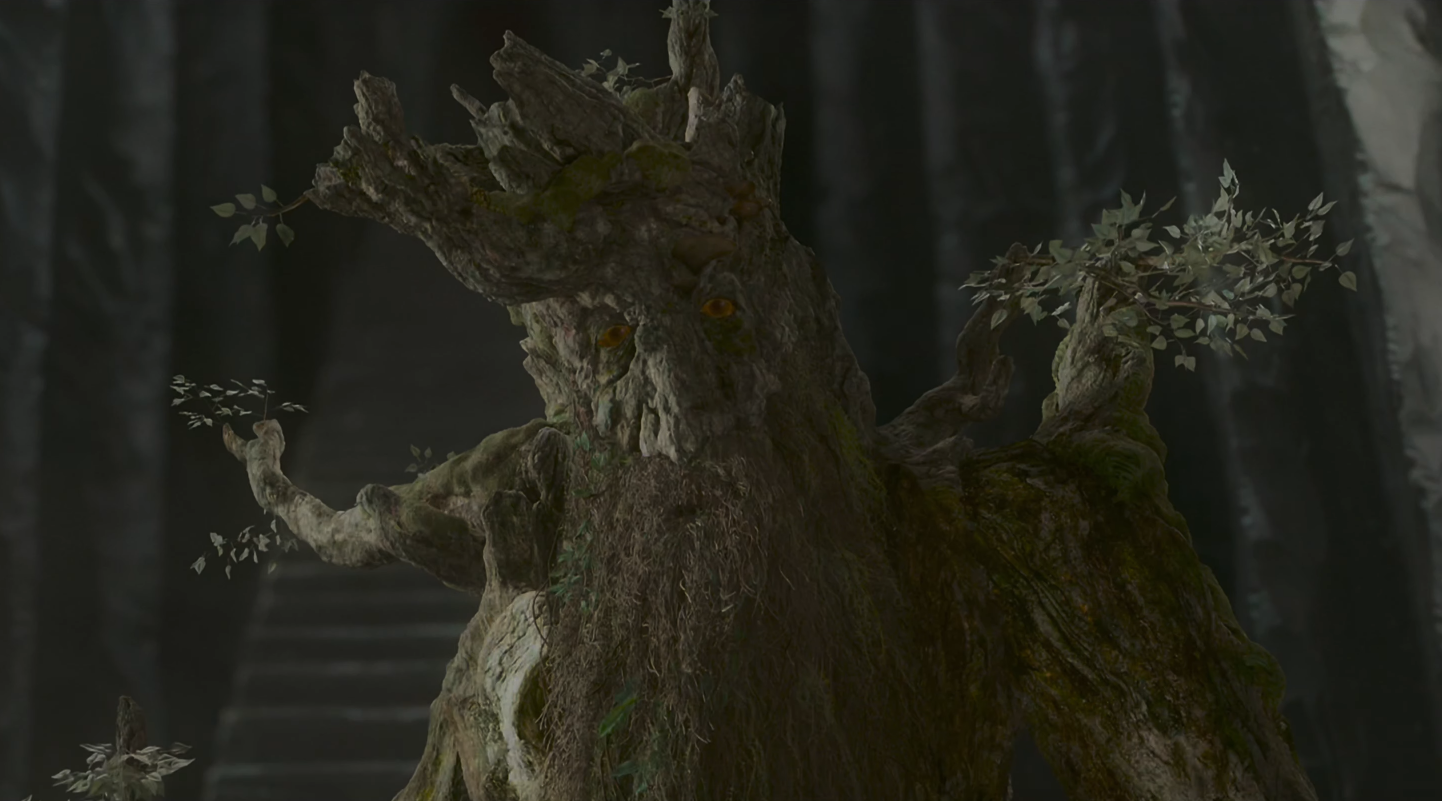 The mothertrucking entmoot from LOTR.
"Moot" means meeting, and in the second book (and, yeah, okay, the second movie), the ents — the living, sentient trees — hold an entmoot to determine the fate of their forest. The problem? The ents hold this moot in their native tree language, which is "a lovely language, but it takes a very long time saying anything in it, because we do not say anything in it, unless it is worth taking a long time to say." (Which could, in fact, be the subtitle for this blog, given how I like to go on and on. The worthiness of the things I talk about to be talked about at length is, of course, another matter.)
Long story short (too late), the ents meet for several days before they decide that they will not meddle in the affairs of men, much to the chagrin of the hobbits who have petitioned them for aid. The world is going to sharknado all around them, the hobbits protest, and ents will be affected eventually even if nothing happens to them right away. But the ents take the isolationist path, pointing out that the trees will outlast whatever squabbles the creatures of the earth busy themselves with.
Then, of course, they learn that actually, the forces of darkness are chewing up the forest to fuel their war machine, and well, that's that. The trees uproot themselves and wreck shop all over Isengard, because nothing motivates you like the threat of imminent destruction.
(I could point out that this is a pretty thinly-veiled dig at politics and politicians with their endless pontificating bureaucracies, but that's not the point of this post.)
All that's interesting and fascinating (though maybe just for me), but ultimately, well, moot in the contemporary sense, because the simple, understood definition of "moot" is that it doesn't matter. The origins of the word are well and good, but these days it means this, so really, who cares?
And speaking of moot points, the problem is perspective and scope. Much of what we do in life, creatively or otherwise, is moot. Pancakes for breakfast, or cold cereal, or skip breakfast entirely? Doesn't really matter. Take the long way to work or the quick way? As long as you get there on time, who cares? Read the Game of Thrones series so that you can claim superiority over the people who just watch the TV show, or don't? Outside of the odd water cooler conversation, there really is very little difference in your life.
Put it on a bigger scale. There will be very little difference on a national level, or even a state level, over the life of one person, even a highly influential one. Things take the course they take, and not much will change it. A bigger scale still: consider, for example, Paris. Unless I have some readers in France I'm unaware of, I really am completely removed from anything happening in Paris. My entire existence, as far as Paris is concerned, is moot. Let alone the world.
But go even bigger. In our own solar system, humans have got some manned missions done in our neck of the woods, and we've sent a fair few probes out to the far reaches, but for the most part, all the accomplishments of humans are represented by a tiny speck of light in the night sky. A moot exercise, you might say, as we'll never have that perspective — but astronauts get that perspective all the time. It's called the Overview Effect (a thing I literally learned just now!)
If you zoom out far enough, everything becomes moot. And if you're prone to Nihilistic thinking (cough, cough), the maw of that realization yawns wide beneath your feet at just about any moment. Why bother creating — it'll all be lost to time and the void eventually. Why bother doing anything?
But taking the long view, while it's probably good for planning your retirement and your diet, is maybe not the best thing to do in cases like this. Any story I could possibly tell is statistically unlikely to disturb the waters very much, even if it becomes profoundly popular. Those waters are thoroughly saturated already, if you'll pardon the pun. But that doesn't mean that, for a narrow slice, the stories aren't worth writing (or reading!). In a lot of ways, the writer's self-affirmation is not unlike the teacher's: if I can reach just ONE student…
The truth is, I don't think I even need to reach a single reader. It'd be nice if I do, of course — and better than nice if I could reach more than one. But when I create, I'm creating for me. It brings me tiny little pangs of joy to make up characters and bounce them around in the snow globes of my creation. On a global scale, or a national one, or even a local one, that might very well be moot.
But given that this life is the only one we get, it only makes sense to fill it with as much joy as we can.
This weekly remotivational post is part of Stream of Consciousness Saturday. Every weekend, I use Linda G. Hill's prompt to refocus my efforts and evaluate my process, sometimes with productive results.